Welcome to the ManiaPlanet Wiki
Mania Planet is your one-stop spot for all Mania series, including TrackMania, ShootMania, and QuestMania.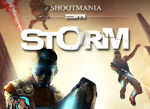 ShootMania Storm is a multiplayer first-person shooter developed by Nadeo and published by Ubisoft. The game is a fast paced shooter with massive online battles, and large amounts of user-created content. The game features several maps, along with an integrated sharing system (for user content).
Create blog post
Blogs
With the release of ShootMania: Storm today, many gamers are diving right in and are streaming their playing of the game. If you are curious in watching this action, view one of the streams below.




Read more >

What could be in store in Nadeo's newest series, QuestMania? What sort of gameplay style/features do you feel they will focus on? Are you looking forward to it?

Read more >
See more >